Socioprofessional Web Sites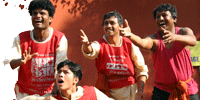 Construction firms in Qatar: Only a handful make serious efforts to improve conditions for migrant workers
source: European Coalition for Corporate Justice


Negociaciones salariales, conflicto social y endeudamiento público
source: Latin America in Movement


Authoritarian Symps
source: Institute of Policy Studies (IPS)


Help Nepal.. Sarvodaya set up Collection Centers to accept Relief Items
source: Sarvodaya


Challenge 2015: Legal Identity for Latin America and the Caribbean
source: Inter-American Development Bank


Azevêdo voices concern with slow progress in key negotiating areas
source: World Trade Organization


L'IRD participe au Forum de la société civile Méditerranéenne pour le climat (MEDCOP21)
source: IRD


OECD Watch public seminar in Cambodia, 8 May 2015
source: OECD Watch


May Boeve, Next Generation Leader
source: 350 | Global Warming. Global Action. Global Future


Our Future, My Responsibility Now
source: Philippine Rural Reconstruction Movement (PRRM)


IMPACT! Sustainability Champions Training (London region)
source: The Natural Step


Iraq: Kurdistan's teachers renew vow to work with education ministry
source: Education International


Agrarian Reform Youth Congress in the Philippines
source: Focus on the Global South


Access to Land in India. Engagement of Ekta Parishad with the WFAL 2016. World Social Forum. Tunis, March 2015
source: AGTER


Hugh Jackman's New Film Shows You How to Save the World, One Cup of Coffee at a Time
source: An Inconvenient Truth


Human Caused Fires Burn in Northwest Territories in Canada
source: NASA - Goddard Space Flight Center


Module for Spirituality of Stewardship
source: Socio-Pastoral Institute


2 June 2015 : EU, Latin American and Caribbean cities look to improve ties at Mayors' Forum
source: ICLEI in EUROPE


Reclaiming the ASEAN Community for the People
source: Forum for a new World Governance


What Does Climate Change Have to do with Texas Floods?
source: Earth Day Network


Fast Track bill undermines democracy, promotes secret mega-trade deals
source: Institute for Agriculture and Trade Policy


Nonkilling discussed at UN Session on the Right to Peace
source: Center for Global Nonkilling (CGNK) | To promote change toward the measurable goal of a killing-free world


How do you #getupand change the world? Like this:
source: Greenpeace International


The relevance of 'resilience'?
source: Eldis


Peruvian Banana Farmers Adept at Adaptation
source: Fairtrade Labelling Organizations International (FLO)


Scaling up aquaculture development through triangular cooperation between Namibia, Spain, Viet Nam and FAO
source: Fisheries Information Center (FAO)


wholesale how to get mac makeup cheap-1Wbj6RBypp
source: Negros Women for Tomorrow Foundation


Paris Agreement must stand on three pillars
source: IIED


France Outcry over Muslim Schoolgirl's Skirt Ban
source: Association for Women's Rights in Development