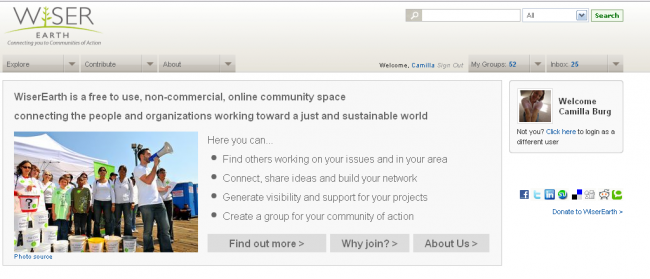 As we move along in a year full of promise and new hope, I have come to realize that it is even more important that we all work together to address the problems facing our world today. I have been browsing the Alliance21 Web site over the past few months and have come to the conclusion that much of the work of the Alliance is complementary to that of WiserEarth, launched in April 2007 thanks to the vision of Paul Hawken.
Just as Alliance21 aims to invent, share, and practice new forms of collective action, WiserEarth hopes to bring communities of action together to help build alliances and increase collaboration. Just as Alliance21 strives to do this at a global scale, WiserEarth offers a global directory of 20,000 people and 110,000 nonprofit and socially responsible organizations based all over the world, as well as the networking and communication tools to bring them all together.
Both platforms work on the principle of the commons and a collective sharing of knowledge. I think the time is ripe to look at opportunities for further collaboration between the two platforms.
I would like to suggest a small working group that could look at ways in which Alliance21 and the WiserEarth could share ideas, content and/or resources. An initial idea could include the use of WiserEarth's wiki technology by Alliance21. This technology is freely available under an open source license. It may offer the chance for Alliance21 to use a pre-existing platform to build on if the Alliance21 community would like to extend the features it offers. Another idea is the integration of some of the WiserEarth content onto Alliance 21's site and vice versa. The WiserEarth site will soon be opening up its API (Application Protocol Interface—a set of routines, protocols, and tools for building software applications). This API will make it easier to develop a program that can use most of the WiserEarth content. A programmer just has to put the blocks together to make this work on a different site.
I would like to know if anyone else from the Alliance would be interested in commenting on this synergy or how it could work.
With thanks for the important work you do.
---
Editor's note:

If you are interested in participating in a discussion on this subject, please sign up to the "alliance" forum if you are not already signed up, and send your message to alliance@forums.alliance21.org.

In the Subject line, please add the tag [WE-A21] before your Subject title, so the messages concerning this discussion can be immediately identified.

Please make sure your message is sent in "text only" format, or it will not be published, and note that no attached files are allowed on the forum.

Finally, the forum is not translated, so please try to write your message in simple sentences and with no spelling mistakes so other participants can use machine translation to translate your message.
Thank you and looking forward!