2.2 TEXTS WHICH HAVE AWOKEN GREATEST INTEREST

2.2.1. Evaluation of Expectation

2.2.2 Most Favourably Evaluated Texts According to the Expectation of Evaluation

2.2.3 Most Favourably Evaluated Texts According to the Evaluations Received

2.2.4 Comparative Graphic
2.2 TEXTS WHICH HAVE AWOKEN GREATEST INTEREST
Given that this is a periodical publication, from the release of the first text to that of the latter 39 weeks have passed. Thus, the first text has had an evaluation period of 38.8 weeks and the latter of 1.7. We have born in mind this variable when estimating which texts have been most evaluated, together with another factor: the curve of participation increases during the first 4 weeks of the release of a text, it ascends slightly until week 20, then becomes more or less stable and grows during the ninth months coinciding with the announcement of the closing of evaluations for the first synthesis and its possible presentation to the next Social Forums.

2.2.1 Evaluation of Expectation
Bearing in mind the evaluation behaviour of the first texts released, one obtains a curve of "expectation of percentage evaluation". This curve has helped to undertake an approximate calculation of evaluations of each text if this had the same publication period as the first. The resulting number is called "expectation of evaluation" and we consider that those texts which have achieved the highest evaluation of this number are the most valued.
Curve of the Expectation of Evaluation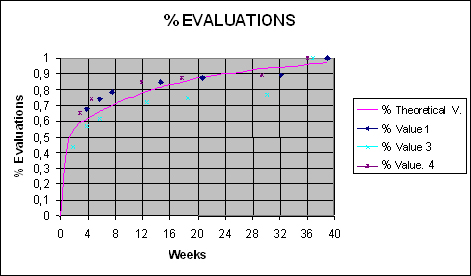 Values 1, 3 and 4 are the evaluation behaviour in the publication time of three texts chosen as a sample for the curve calculation.
2.2.2 Most Favourably Evaluated Texts, according to Expectation of Evaluation :
| | |
| --- | --- |
| Name of the Text | Expectation of Evaluation |
| 02 Women and Economy | 55.14 |
| 01 Scientists | 50.84 |
| 04 Governance | 48.12 |
| 08 Sustainable Development | 43.53 |
| 09 Fair Trade | 41.59 |
| 35 Youths | 41.59 |
| 03 Interculturality | 40.69 |
| 05 Inhabitants | 37.78 |
| 06 Social Money | 35.82 |
| 10 Ethical Consumption | 35.58 |
| 34 University | 34.24 |
| 12 Economy of Solidarity | 33.81 |
| 07 Privatisation of Life | 32.78 |
| 31 State and Development | 31.21 |
| 16 Art | 30.30 |
| 30 Territories | 30.12 |
| 11 Production, Technology | 28.19 |
| 27 Environmental Education and Sustainability | 27.90 |
| 15 Water | 27.80 |
| 22 Civil Society and GMOs | 27.59 |
| 25 Education | 26.79 |
| 17 Soils | 26.07 |
| 19 Work and Economic Activity | 25.50 |
| 13 Debt and Adjustment | 25.25 |
| 21 Economic Policies, Ideologies and Geo-Cultural Dimension | 24.87 |
| 26 Citizen Education | 24.71 |
| 32 European Continent | 24.61 |
| 18 Nutrition | 22.91 |
| 33 Precarious Situations and Social Exclusion | 22.66 |
| 14 Business and Solidarity | 22.10 |
| 24 Fiscal Policy and Social Welfare | 21.30 |
| 29 Sustainable Finance | 19.53 |
| 20 Food Safety and Sovereignty and Agriculture... | 18.72 |
| 23 Proposals on Industrial Ecology | 18.25 |
| 28 Finance of Solidarity | 17.68 |
2.2.3 Most Favourably Evaluated Texts, according to Evaluations Received
| | |
| --- | --- |
| Name of the Text | No. Evaluations |
| 02 Women and Economy | 53 |
| 01 Scientists | 49 |
| 04 Governance | 46 |
| 08 Sustainable Development | 41 |
| 09 Fair Trade | 39 |
| 35 Youths | 39 |
| 03 Interculturality | 36 |
| 05 Inhabitants | 34 |
| 06 Social Money | 33 |
| 10 Ethical Consumption | 31 |
| 34 University | 31 |
| 12 Economy of Solidarity | 27 |
| 07 Privatisation of Life | 26 |
| 31 State and Development | 25 |
| 16 Art | 23 |
| 30 Territories | 23 |
| 11 Production, Technology | 23 |
| 27 Environmental Education and Sustainability | 22 |
| 15 Water | 22 |
| 22 Civil Society and GMOs | 21 |
| 25 Education | 21 |
| 17 Soils | 21 |
| 19 Work and Economic Activity | 21 |
| 13 Debt and Adjustment | 21 |
| 21 Economic Policies, Ideologies and Geo-Cultural Dimension | 20 |
| 26 Citizen Education | 20 |
| 32 European Continent | 20 |
| 18 Nutrition | 19 |
| 33 Precarious Situations and Social Exclusion | 17 |
| 14 Business and Solidarity | 16 |
| 24 Fiscal Policy and Social Welfare | 16 |
| 29 Sustainable Finance | 15 |
| 20 Food Safety and Sovereignty and Agriculture... | 14 |
| 23 Proposals on Industrial Ecology | 14 |
| 28 Finance of Solidarity | 13 |